Welcome!
You will find Senneville's municipal pool in Senneville Park at 20 Morningside Avenue (intersection Pacific Avenue). The pool is open in the summer to all citizens from June till August, inclusively.
Offering swimming and fitness classes as well as free swimming periods.
Pool policy
The Senneville pool is reserved for Senneville residents and their guests. We have put in place a pool registration system, in order to facilitate the identification of Senneville residents and other members of the pool.
On your first pool visit, you must show your photo ID with address. At this time, you will have the option to register in the pool user identification system and thus, you will not have to bring your identity card during future visits.
However, if you do not wish to be in the identification system, you will have the option to bring your photo ID each visit. Your photo ID card serves as a pool pass.
Remember that when you invite someone to use the pool or sponsor them, they are under your responsibility. Please register your guests at the pool table and make sure to pay their access fee.
Have a great summer!
| GUEST FEES | PER DAY | PER WEEK |
| --- | --- | --- |
| Per person | $ 4.00 | $ 20.00 |
| Per family (6 people maximum) | $ 10.00 | $ 50.00 |
Registration & Cost
Registration
From March 29, 2023 (9 a.m.)
Residents Village of Senneville
Non-residents Village of Senneville
POOL (Lessons and aquatic activities)
$100 per participant
$200 per participant
$200 per family max.
$500 par family max.
2023 Pool Calendar
| | |
| --- | --- |
| June 10th | First day of pre-season |
| June 17th | Swimmers' Evaluation Day |
| June 26th | Swimming lessons begin |
| July 8th | Senneville Day |
| August 18th | Swimming lessons end |
| August 19th | First day of post-season |
| August 20th | Triathlon |
| August 25th | Awards Night |
| September 9th | Pool closing |
Opening hours
Pool Hours Pre-Season
Dates: June 10, 11, 17 and 18
Hours: 12:00 PM – 7:00 PM
Dates: June 12 to 16, June 19 to 24
Hours: 4:00 PM – 7:00 PM
Post-Season Hours
Dates: August 19 & 20
Hours: 12 p.m. to 9 p.m.
Dates: August 21 to 25
Hours: 4 p.m. to 7 p.m.
Dates: August 26 & 27
Hours: 12 p.m. to 7 p.m.
Dates: August 28 to September 1
Hours: 4 p.m. to 7 p.m.
Dates: September 2 to 4
Hours: 12 p.m. to 7 p.m.
Dates: September 5 to 8
Hours: 4 p.m. to 7 p.m.
Dates: September 9
Hours: 12 p.m. to 7 p.m.
Pool schedule
Pool staff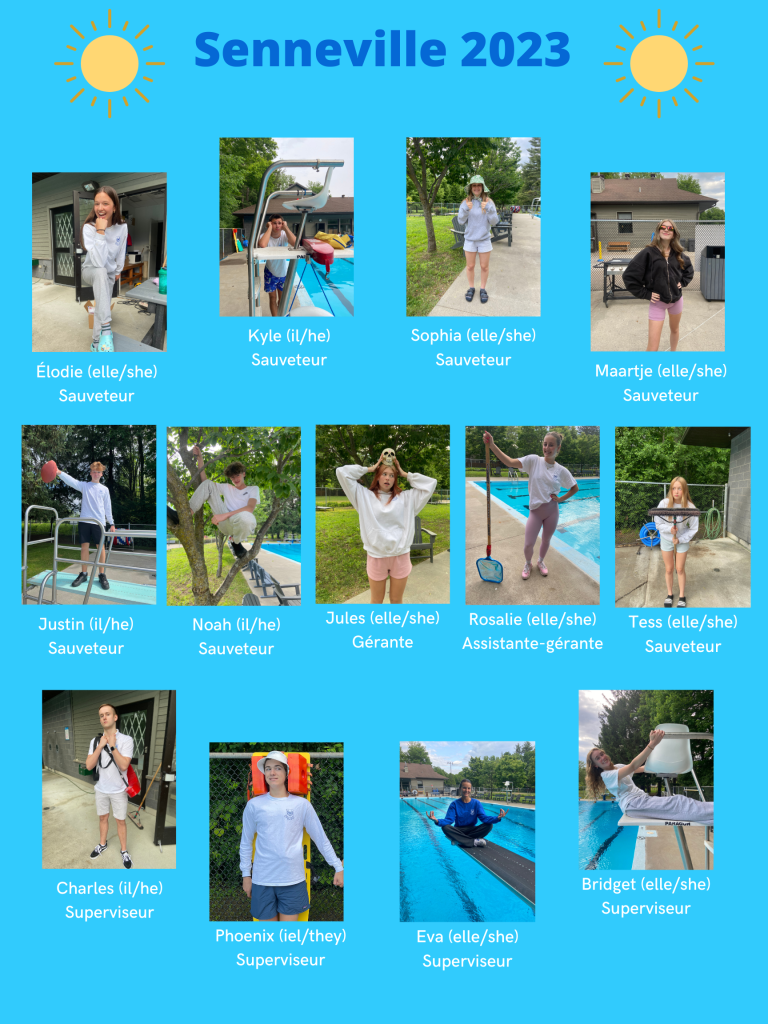 Swimming lessons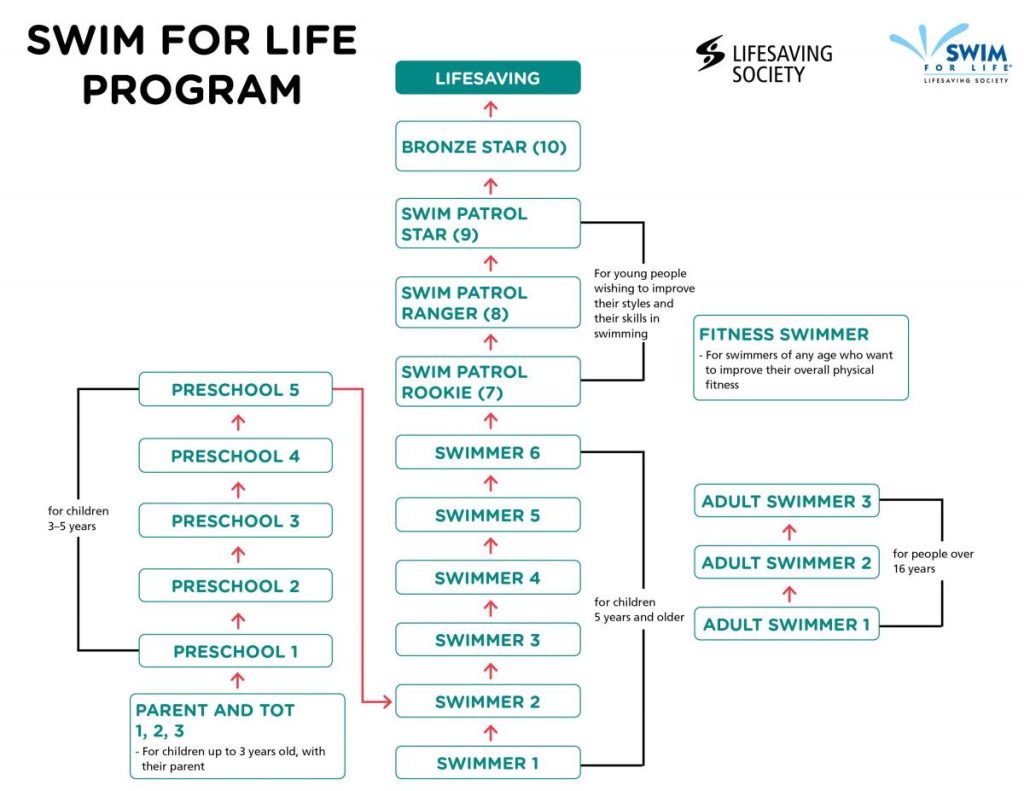 Swimming lessons
Senneville Pool offer fully certified Lifeguard society (formely Red Cross) swimming lessons. Lessons focus mainly on developing all five strokes (front crawl, back crawl, breast stroke, elementary backstroke, and sidestroke), promotes fitness and endurance, and gives swimmers lifelong skills to safely enjoy other aquatic pursuits.
Senneville Pool offer 30 minute long swimming lessons every morning from 9:30 to 11:00, Monday through Thursday. This year there will also be morning lessons from 9:00 to 9:30 to accomodate the day camp kids.
The summer is split up into two sessions of four weeks, giving the child the chance to move up into a higher level half way through the summer. After each four week session, there are report cards for the children highlighting their strengths and areas for improvement.Due to our large number of members, we cannot guarantee that you will get your first pick of time, but every effort will be made to accommodate as many members as possible.
Swim for life
The Swim for life's Lifesaving society program is composed of five modules :
We've designed the modules so they flow together seamlessly. You can program them independently – or as you can see in the Programming Flow Chart on the following page – program them all so they flow logically into each other and on into the basic lifesaving awards: Rookie, Ranger and Star Patrol.
Preschoolers move from Preschool to Swimmer based on age – traditionally around 5–6 years. Preschoolers who have completed Preschool 1 or 2, would move to Swimmer 1; if they have completed Preschool 3, 4, or 5, they would move into Swimmer 2.
Content is organized as follows:
Entries and exits
Surface support
Underwater skills
Swim to Survive® skills
Movement / Swimming skills
Fitness
Water Smart® education
Mandatory equipment for the Swim for Life program includes lifejackets of all sizes. Other learn-to-swim equipment such as kickboards, pull buoys and toys will expand the scope for effective and entertaining training.
Programmation
Programs
Swim team
Senneville Pool is proud to offer a swim team that combines fun and the spirit of competition. Swim team is a place where children can improve their strokes while competing competitively against children from the 21 other pools in A.L.P.S.. There are five different age categories; 6 and under, 8 and under, 9&10s, 11&12s and 13&14s.
Every Wednesday night, there are friendly competitions between two pools in A.L.P.S. Each competition consists of all four strokes and a freestyle relay, with five different age groups.
Water-Polo
A competitive team sport, water polo presents the opportunity to learn leadership and how to work as a team. From lessons for beginners to full team practices, water polo is a great way to learn to play or hone your skills.
Practices will take place at both the Senneville Pool and the Baie-D'Urfé Pool.
Games are scheduled Monday and Thursday evenings.
Synchronized swimming lessons
Senneville Pool is proud to offer teams, solos and duets for all ages and skill levels. We encourage everyone to grab a noseplug, put on their best synchro smile and discover what Synchro has to offer.
Swimmers who wish to participate in our synchro program must be at least 6 years of age and be comfortable swimming unassisted in deep water.
​Additional Team Information:
Purchase of a routine suit is mandatory. The routine suits are ordered at the beginning of the summer and are custom made.
Please pay close attention to the competition dates and schedule your vacations accordingly. Swimmers who will be absent from practice the week leading up to and/or the week of the competition will not be eligible to participate in our competitive program.
Please note that there may be ADDITIONAL practices outside of the regular schedule.
Diving
The Senneville Diving Team is dedicated to helping young people reach their full potential while learning to dive in a safe and friendly environment.
Diving lessons are offered to divers of all ages and levels. Our dedicated coaches work on an individual basis with each diver to teach basic technique and dives that are appropriate and safe, depending on the divers ability.
Bronze star
The Bronze Star is the first Bronze level award. Following this course will introduce you to lifesaving: you will learn to solve various problems, to make decisions as an individual and as a team member, to perform cardiopulmonary resuscitation and develop self-rescue skills that will help you save your own life.
Schedule: Monday at 9:30 AM to 10:15 AM and Wednesday at 9:30 AM to 10:15 AM
Cost: $ 65 per participant
PREREQUISITE:
To be able to swim 100 meter
To be 11 years old or older (recommended)
Bronze medallion
The Bronze Medallion introduces the four basic components of lifesaving: judgement, knowledge, skills and physical fitness. You will learn defense, release, tow and carry techniques to be prepared to save conscious and unconscious victims in situations that are increasingly risky. You will also improve your swimming technique and endurance. THE HOLDER OF A BRONZE MEDALLION AWARD IS ENTITLED TO WORK AS ASSISTANT-LIFEGUARD IN A POOL (15 YEARS OLD AND OLDER).
Schedule: Monday at 1:00 PM to 3:00 PM and Wednesday at 12:00 PM to 1:00 PM
Cost: $ 85 per participant
PREREQUISITE:
To be at least 13 years old at the final evaluation, or to hold the Bronze Star award
To demonstrate the skills and knowledge required for the Canadian Red Cross Junior 10 level
Bronze cross
If you're seeking a more advanced training and want to know the basic notions of aquatic facility supervision, you need a Bronze Cross award. You will also learn to rescue a spinal-injured victim in the deep part of the pool and a submerged victim in cardiopulmonary arrest. THE HOLDER OF A BRONZE CROSS AWARD IS ENTITLED TO WORK AS ASSISTANT-LIFEGUARD IN A POOL (15 YEARS OLD AND OLDER) AND ON A BEACH (16 YEARS OLD AND OLDER).
Schedule: Monday at 1:00 PM to 3:00 PM and Wednesday at 12:00 PM to 1:00 PM
Cost: $ 85 per participant
PREREQUISITE: To hold the Bronze Medallion award
Leaders
Leaders program provides a chance for young teens to get involved in the pool and learn the ropes of being a lifeguard. The program includes many activities that focus on leadership while giving the teens a club-like atmosphere where they can meet others their age and learn what it's like to be a leader. Being older than most of the other children at the pool, the leaders are given a chance to help out with maintenance and events if they wish.
Throughout the summer, there are special events like movie nights and fundraisers organized by the leaders to raise money for their end-of-summer outing. Every year, at the end of the summer, the leaders can use their fundraising money and either have a free trip/dinner downtown in a limo, a day at La Ronde or many other fun activities.
Masters
The Masters Program offers swimming workouts for adults and older tenns (15 and up) who wish to learn the fundamentals of swimming including: body positioning on both the front and back, proper flutter kick, and stroke formation for Front Crawl, Backstroke, Breaststroke, and Butterfly. These lessons provides an excellent way to exercise, socialize and to maintain their swimming skills.
Schedule: Tuesday and Thursday from 6:15 PM to 7:15 PM
Aquafit
The Aquafit program offers a great way for participants to stay fit and have fun. Aquafit consists of cardiovascular and water resistance training in the pool, all to the sounds of classic summer hits.
Schedule: Monday, Wednesday and Friday from 12:00 PM to 1:00 PM
Important information
*These rules were established before the pandemic.
Contact us
Summer season
Pool staff
514 457-6020, ext. 190 | piscine@villagesenneville.qc.ca
Otherwise at any time.
Manager of Recreation, culture, community life and communications
514 457-6020, ext. 120 | loisirs@villagesenneville.qc.ca
20 Morningside Avenue, Senneville, H9X 1A3
ALPS
2023 Swim meet schedule
Here is the schedule for SENVL for C division. In yellow is when SENVL is HOME.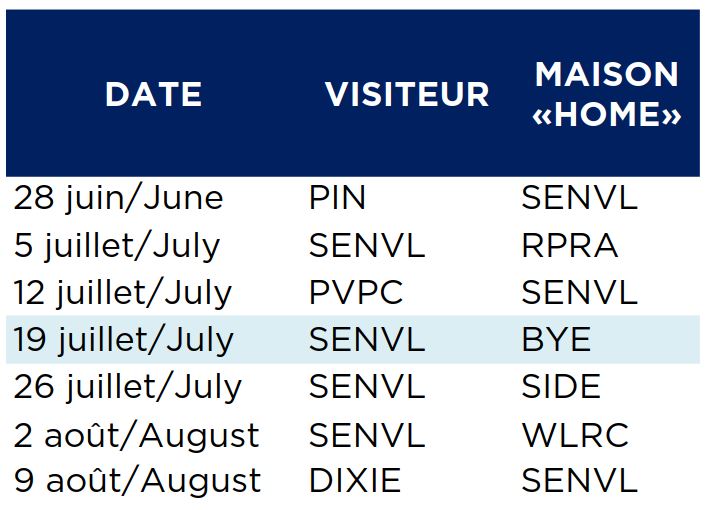 Swimming dates 2023
Section finals: Saturday August 12, 2023 (A: WSTMT B: BHILL C: PVPC)
Swimming finals: Saturday August 19, 2023 (BDAC)
FAQ
CAN ANYONE JOIN THE POOL AND PARTICIPATE IN ACTIVITIES?
Senneville residents are all members of the pool and can participate in the activities for specific costs. Non-residents must be sponsored by a Senneville resident in order to part take in activities.
HOW DO I REGISTER FOR SWIMMING LESSONS?
On the municipality website there is a link to Online registration. This will let you register in all aquatic activities.
ARE THERE LANES AVAILABLE ALL THE TIME OR ONLY DURING SPECIFIC HOURS?
There is one swimming lane available every day from 1 PM to 9 PM.
DO I HAVE TO GET IN THE WATER WITH MY CHILD?
If your child is using a safety jackets or a bubble when swimming, adults need to be in the water at all times.
HOW OLD DO YOU HAVE TO BE TO ATTEND THE POOL UNSUPERVISED?
Children 13 and over are permitted to stay at the pool unsupervised.
WHAT ARE THE HOURS FOR FREE SWIM?
From Monday to Friday free swim is from 1 PM to 9 PM. Adult swim is from 12 PM to 1 PM and 6 PM to 7 PM.
On weekends, free swim is from 12 PM to 9 PM. Adult swim is from 6 PM to 7 PM.
CAN WE BRING FRIENDS TO THE POOL?
All residents can bring friends to the pool, but they must be accompanied by a resident of Senneville and pay an entrance fee of $ 4 per person and $ 10 for a family.
IS THERE ALWAYS A LIFEGUARD ON DUTY?
There are always 3 lifeguards on duty at ALL times.